Beijing, China — April 29, 2016 — Today, Ubisoft announced the next hit games in its longstanding partnership with Bejing Ourpalm Co.: Hungry Shark World, a sequel to the mobile game Hungry Shark Evolution, and a brand new AAA mobile title based on the Assassin's Creed franchise, developed by Ourpalm in collaboration with Ubisoft Montreal.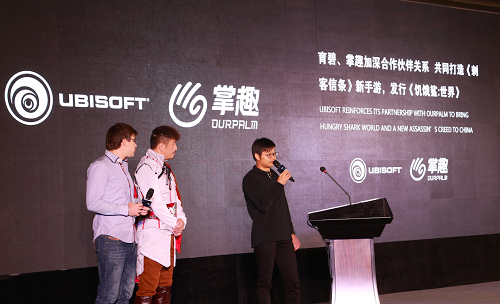 Following the success of Hungry Shark Evolution, which has seen more than 51 million unique users since it was launched in 2015 on Android in China, the two industry leaders now plan to bring the sequel to the Greater China market. The series already has a large following in China with millions of players enjoying its immersive gameplay and rewarding progress system.
"The Hungry Shark mania is on in China and we are really confident with the launch of this new episode, which is even bigger, hungrier and sharkier!" said Aurelien Palasse, Head of Publishing, Greater China, Ubisoft.
The iOS version of Hungry Shark World will be available in China along with the worldwide release on May 5, 2016. Later on Ourpalm will publish the Android version, currently being localized and adapted by Ubisoft to meet the needs of the local Android market.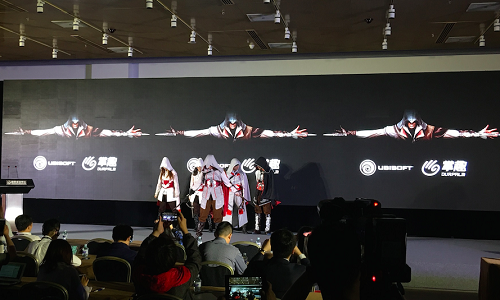 With this partnership, Ourpalm has also acquired the rights to develop an MMORPG Assassin's Creed mobile game for Greater China. Ourpalm's Beijing based production team will collaborate with Ubisoft Montreal who owns the Assassin's Creed brand.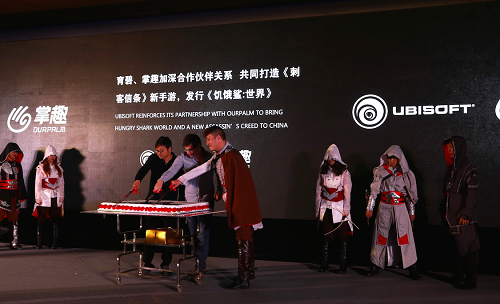 The Assassin's Creed franchise is Ubisoft's most popular and successful franchise to date. Critically acclaimed when it was first released in 2007, the franchise has grown to become one of the biggest game franchises in world history, garnering multiple industry rewards.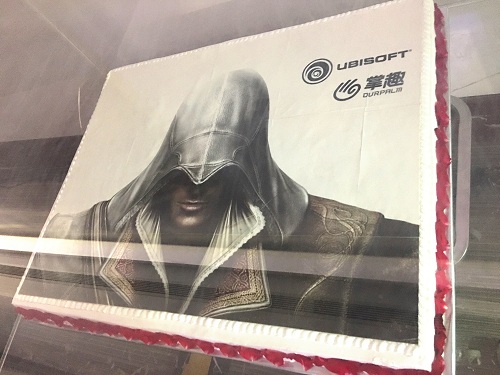 "We've got our most senior team members working on the new Assassin's Creed title, and have high expectations for it. We just can't wait to show the Assassin's Creed community in China what the game is about!" said Tie Lei, VP of Ourpalm.
About Ubisoft
Ubisoft is a leading creator, publisher and distributor of interactive entertainment and services, with a rich portfolio of world-renowned brands, including Assassin's Creed, Just Dance, Tom Clancy's video game series, Rayman, Far Cry and Watch Dogs. The teams throughout Ubisoft's worldwide network of studios and business offices are committed to delivering original and memorable gaming experiences across all popular platforms, including consoles, mobile phones, tablets and PCs. For the 2014-15 fiscal year Ubisoft generated sales of €1,464 million. To learn more, please visit www.ubisoftgroup.com.
About Ourpalm
Founded in August 2004, Ourpalm Co., Ltd. is a Chinese leading mobile and web game developer, publisher and operator. Since being listed on the Shenzhen Stock Exchange (300315) in May 2012, Ourpalm has completed over 40 capital operations with a total of 10 billion yuan, and continuously advanced the resource integration of the entire industry chain, acquiring Dovo Game for 810 million yuan in February 2013; Playcrab and ShangGame for 2.553 billion yuan in October 2013; TIANMA for 2.678 billion yuan in February 2015 to initiate operations in the hardcore ARPG segment; and a 19.24% stake in Webzen, Korea in March 2016 for 1.1 billion yuan as its second-largest shareholder. In addition, Ourpalm has successively invested and held stakes in segment leaders such as Unity, Irena, GameDo, Zhangyue, bilibili and Leke VR to accelerate the construction of an industrial powerhouse. In 2015, Ourpalm became China's third-largest mobile game developer.